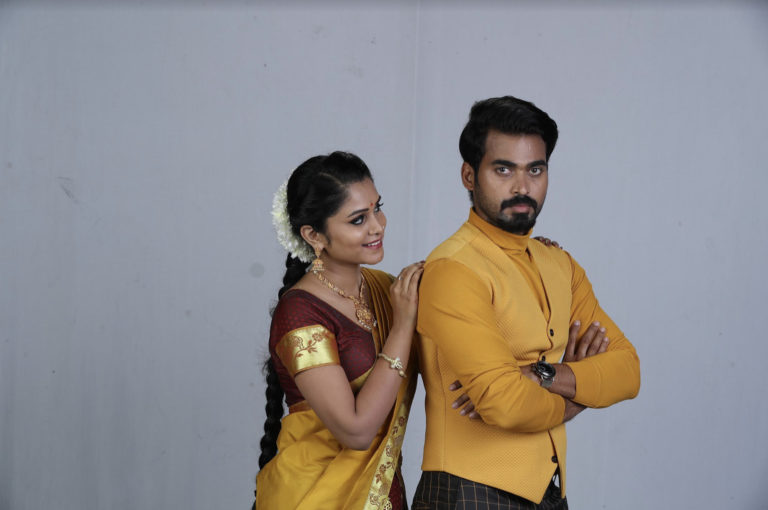 Telugu States will witness the best VFX extravagna ever in Telugu General Entertainment Channel (GEC). Zee Telugu aims with its latest offering fur Nagabhairavi that will transport the audience to the imaginary world of Nagarjuna and Bhairavi's saga and their struggle to save the Nagasampada. Accompanying star performers including actor Pawan Sa, Yashmi Gowda, Kalki Raja, Ashwini and Sravani; Nagabhairavi highlighted that toughness, courage and determination are the greatest weapons to fight the most intense of evil. Shown in the current aesthetics, the show revolves around the mystical and enigmatic world of poisoners as they struggle to acquire serpents. Made by Nagabhairavi 27 Pictures and will premiere on October 12 and air on Zee Telugu and Zee Telugu HD only on Monday-Saturday at 7:30 pm.
Set in Nagavaram and Hyderabad, the show will feature the sagas of Nagarjuna (Pawan Sa) and Bhairavi (Yashmi Gowda). Bhairavi is responsible for protecting the Nagasampada which was passed on to him by his ancestors. Lord Shiva blesses Bhairavi with divine amulets. However, when Bhairavi is in serious danger, Nagarjuna is his only protector. It remains to be seen how Bhairavi and Nagarjuna fight all obstacles to protect the Nagsampada.
Versatile actress Ramya Krishnan is associated with Nagabhairavi as the brand ambassador of the show. The promo and title song that featured her has been buzzing a lot since its launch.
Another feature of the show is that the main actors of the series, Pawan and Kalki Raja, produce the show. Kalaki Raja, who became an actor with Nagabhairavi, says, "Nagabhairavi is my child. I am grateful for the overwhelming support from Jayant and Anuradha Gudur. A heartfelt thank you to the entire Zee Telugu Channel for believing that Pon Vaughan and I led this show to live up to its title. Visual effects and presentation are the highest standards of Telugu small screen television. We believe this is a show that will bring the whole family together for mass entertainment. "
When asked to give a glimpse of Pawan in his journey of becoming a producer, the young actor declared, "It is a dream come true for me and Kalki and Nagabhairavi has found it to be a great opportunity. I thank the channel, especially Anuradha Gudur and Jayanth for this opportunity and the trust they have given us. With this show, we bring cinematic skills to the Telugu television screen by creating this one visual treat for the audience. "
Telugu Cluster Head, Anuradha Gudur says, "At Zee Telugu, we have always believed in experimenting with different concepts that bring diversity to our viewers. Nagabhairavi's concept is something that we, Zee Telugu, have never invented in the past; It's a whole new aspect of a love story that reaches a mysterious place in the unknown. By focusing intensely on different elements such as characterization, scripting, visual appeal, etc., we have increased the product value to make it a winning proposition in the regional small screen industry. Our new show Nagabhairavi is once again gearing up to bring to life the allure and intrigue of supernatural stories, adding more depth to our diverse and cutting-edge content portfolio. "
Stay tuned for the love story of 'Nagabhairavi' premiere on October 12, 2020 and will air every Monday-Saturday at 7:30 pm only on Zee Telugu and Zee Telugu HD!
To enjoy the show, subscribe to Zee Telugu available in Zee Prime Pack, Rs. 20 per month:
To make sure you don't miss your favorite Zee Telugu show, choose Zee Prime Pack which includes Zee Telugu, and Zee Cinemalu along with Zee Network's 7 other top channels that cater to your entire family's daily entertainment needs at Rs. 20 per month. For more information, contact your DTH or cable operator.
About Zee Telugu:
Zee Telugu is the Telugu General Entertainment Channel of Zee Entertainment Enterprise Limited (ZEEL). Launched on May 18, 2005, Zee Telugu was the first to enter South India from Zee Kalgi. Zee Telugu presents a variety of shows that cater to the entertainment choices of over 75 million Telugu viewers across India every week. From fiction shows to reality shows and talk shows, the channel has multi-style ings and is widely accepted as the ultimate entertainment venue. Zee Telugu creates extraordinary content by offering fiction shows with unique story lines, state-of-the-art non-fiction shows and events with extraordinary formats and captures the satellite of some of the biggest Tollywood movies that appeal to viewers of age groups. .
With a balanced mix of content and programming options, Zee Telugu is one of the top Telugu GEC channels in Andhra Pradesh and Telangana. Zee Telugu is well connected on all cable and digital platforms and is also available on ZE5.